In response to the May shooting at Geneva Presbyterian in Laguna Woods, we invited our brothers and sisters in Riverside Presbytery to join us for a morning discussing security and safety on June 21.  We do not consider ourselves experts, but the mass shooting at the Regional Center in our city caused us to begin asking difficult questions and adapting our practices many years ago.  After lots of trial and error and effort, we felt we might have something to offer our colleagues, and they might have ideas and practices from which all could benefit.
About 20 people attended- some pastors, some ruling elders, all deeply concerned about how to keep sanctuaries safe.  Dave Thomas, whose firefighter and first responder career equipped him to be the 'Safety Captain' at FPCSB, presented lots of useful material along with Shannon Nolin, who brings her sharp eyes and a strong heart to the work of keeping our church family safe.
Dave acknowledged that there is no 'one size fits all' approach to this work, for every congregation is distinct in its context, makeup, size, and facilities.  He organized things that might be done into 3 categories: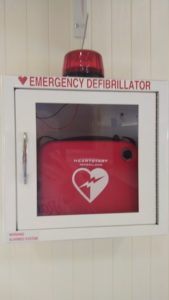 Things that cost nothing (increasing awareness, locking doors once worship begins, having emergency services such as police and fire loaded in your phone so emergency calls skip the '911' routing step, and creating a photo book of visitors who may have been disruptive or challenging so that all ushers have that information)
Things that cost a little (annoying safety vests for ushers, portable First Aid Kit, radios for safety team)
Things that cost more (upgrade outdoor lighting, AED defibrillators, 911 direct dial phone for buildings with no phone line, and steel doors)

FPCSB's emergency direct phone
Following the discussion in fellowship Hall, we took a tour of the campus to see examples of things we've implemented since 2018. We were grateful that FPCSB's sense of vulnerability, discouragement, and hard work could be harvested and used by God to assist others wrestling with similar concerns.  We acknowledged that this is not what any of us who are pastors signed up for, nor is it a world we could have imagined 25 years ago.  We spoke of the tension between Jesus' welcome for all, and our concerns for keeping our sanctuaries truly safe places.  Hearing that dilemma voiced by a guest crystallized that this is complicated work and that we will need the Spirit's help as we move forward.
The suggestion was made that we gather folks who are interested periodically to discuss progress or setbacks and to share best practices. If you are interested, let Dave know. He can be reached at Dave Thomas t.dave49@yahoo.com
'God is our refuge and strength, a very present help in trouble, therefore we shall not fear.'