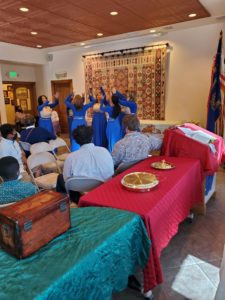 The closing services for the Transformational Multicultural Fellowship (TMF) were held Sunday, November 14, 2021.  The service was a celebration of James Munyi and Joyce Mwangi's eight years of ministry in the high desert. We, as a presbytery, are grateful to James and Joyce, along with their family and other co-workers in Christ, for their faithful service to Jesus Christ through the excitement of ministry, their own grief and loss, and our recent pandemic.
Pictured is Bill & Carol Stanley presenting a certificate to James and Joyce thanking them for their ministry in the Riverside Presbytery. Bill is the moderator of the Presbytery's New Worshipping Community AC.  Carol is the Moderator of the Presbytery Assembly.
Lee Ireland, Presbytery Leader, brought greetings from the Presbytery, thanking James and Joyce for their TMF ministry and their ministry to those in grief through their work as chaplains in the local hospital.  James and Joyce presented Lee and Tom Rennard, Presbytery Stated Clerk, with a monetary gift from TMF.
James and Joyce invited liturgical dancers, pictured dressed in blue, who performed in the service.  During the service, several individuals gave their testimony as to what TMF had meant to them personally.  All offered Joyce and James thanks for their ministry.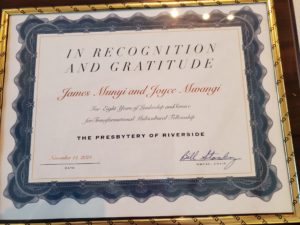 Since, 2013, James Munyi and Joyce Mwangi have led Riverside Presbytery's very first ministry under the PCUSA's 1001 New Worshiping Communities.  The name, Transformational Multicultural Fellowship (TMF), reflected their vision for what God would work through them. In time, TMF took on an added dimension. Both serving as chaplains at St. Mary's Hospital in Apple Valley, they reached out to those in grief as well as other kinds of transition, providing a community of faith for healing and renewal. James and Joyce describe TMF's ministry as a kind of filling station where those who are spiritually or emotionally empty can stop along the way to "gas up" and then continue their journeys of faith and life.
James and Joyce have retired from their work in this country and will be returning to their native Kenya opening a new ministry to bless the people there, just as they have blessed us here.