Riverside Presbytery has joined San Gabriel Presbytery to support this important ministry to immigrants.  Riverside Presbytery's Partners in Ministry (PIM – Paul Knopf moderator) has been involved in funding this ministry from Presbytery funds and working with PDA through the grant process.  In this article, Kristi provides the background for this ministry.  Kristi's contact information and how to become involved are included.
---
None of us could have imagined, as we prayed together with partners on the Tijuana side of the border that first Sunday in March of 2020, what twists and turns our Immigrant Accompaniment Ministry would take in the year that followed. Then again, I'm not sure we could have imagined, back in February of 2019, the many ways the Spirit would guide and grow this ministry that was born out of conversations that took place during a similar visit to the U.S./Mexico border.
Traveling with colleagues from the Refugee and Asylum Ministry of Presbyterian Disaster Assistance, we had the opportunity to discuss the ways the Southern California presbyteries, with their proximity to the border, were already working for immigrant justice and advocating for just immigration policies. We also brainstormed how PDA might be able to come alongside our presbyteries to support the coordination and expansion of immigrant ministries across Southern California. Thanks to a generous grant from Presbyterian Disaster Assistance to support the hiring of a part-time coordinator, the SoCal Presbyterian Immigrant Accompaniment Ministry was launched in May of 2019 as a collaboration of Pacific and San Gabriel Presbyteries, with support from the Synod of Southern California and Hawaii.
The Immigrant Accompaniment Ministry began growing as a network of Presbyterians around Southern California, in ecumenical collaboration with the Matthew 25/ Mateo 25 SoCal Movement, striving to follow Christ's call to welcome the stranger by opening our churches, homes, and hearts to refugee siblings seeking asylum, joyfully and faithfully engaging in accompaniment and advocacy.
Our ministry includes extending hospitality by hosting an asylum seeker -family or individual- in your home or church; becoming part of a team of people who commit to coming alongside a family or individual in the asylum process, which may include things like visiting, providing transportation, assisting with translation, gathering necessary clothing/home goods, or purchasing grocery gift cards; visiting immigrants being held in the Adelanto Detention Center to foster hope and offer welcome; and joining people of faith in education and advocacy for just policies that promote welcome and flourishing within our communities, our region, and across our nation. Since the ministry began, we have accompanied 12 asylum-seeking families, visited more than 50 individuals and sent more than 200 holiday cards to migrants detained at Adelanto, and collected and distributed more than $1,500 in gift cards.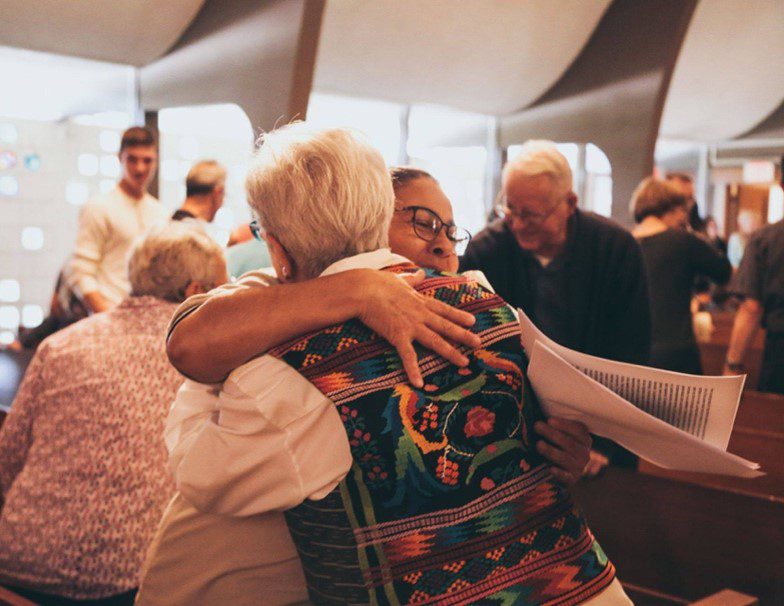 When the COVID-19 pandemic hit visitation at Adelanto was suspended and we moved away from encouraging in-home hosting to protect everyone's health and to respect local safer-at-home orders. However, we knew we needed to pivot quickly to advocate for and provide immediate post-release services for those individuals who were able to secure release from the detention center. In this challenging moment, we invited Riverside Presbytery to join San Gabriel and Pacific Presbyteries in applying for Emergency Grant funds, made available by Presbyterian Disaster Assistance. While Pacific Presbytery focused on direct support for asylum seekers living locally, San Gabriel and Riverside, within whose bounds Adelanto is located, planned to refocus efforts around services for those being released from detention in Adelanto.
Congregations and individuals around Riverside Presbytery quickly became vital partners in this important work of welcome, and as the initial grant year for the coordinator position was coming to a close we were encouraged by PDA to apply for a renewal grant through San Gabriel Presbytery and to apply for a new program grant from Riverside. Again, thanks to generous grants from Presbyterian Disaster Assistance, and additional support from the Synod, San Gabriel and Riverside Presbyteries now share a full-time Immigrant Accompaniment Ministry Organizer, and we continue to partner with Pacific Presbytery. In the ten months since we began working together we have provided more than 130 taxi services, offered 73 overnight hotel stays, provided more than 50 backpacks and roller bags to help 120 individuals released from Adelanto to be reunited with family or sponsors.
Thank you for continuing to support the SoCal Presbyterian Immigrant Accompaniment Ministry as we seek out, welcome, and accompany the most vulnerable among us. We couldn't engage in this important work without you! Please prayerfully consider donating to help provide ongoing support with housing, medical, or legal costs, and to meet other basic needs of asylum-seeking families living in our communities. For more information, contact Kristi Van Nostran at PresbyWelcome@gmail.com.